ABOUT US
The Cure IV is a booking platform that facilitates mobile IV therapy and brings IV services directly to you
We recognize that visiting the doctor can be both time-consuming and stressful. Our dedicated network of providers helps you over the phone and in the comfort of your home! Our network of healthcare professionals is committed to providing everyone with the best possible experience. Our network consists of qualified medical practitioners with licenses and insurance, including Doctors, Physician's Assistants, Nurse Practitioners, and Registered Nurses. We honor your discretion and look forward to taking care of you!
FAQ
What Are the Benefits of IV Therapy?
IV therapy works fast to rejuvenate your body and provide enormous health benefits. Whether you're looking for a quick immune system boost or relief from chronic pain and diseases, there's no waiting for medications to filter through your digestive system. Intravenous nutritional therapy helps enhance the immune system, provides mood support, enhances brain function, improves energy levels, and offers better overall health and wellbeing. But you may be asking yourself, why an IV?
IVs Vs. Oral Supplements:
The truth is most adults are deficient in several essential vitamins and minerals. And we're not getting the amounts we need through oral supplements. When taking a vitamin by mouth, your body has to do a lot of work to get nutrients from your stomach into your bloodstream. Taking medicine by mouth removes some nutrients and may damage your gut. With an IV Infusion, 100% of vitamins and minerals go straight to your bloodstream. Because of this, you can deliver high concentrations of nourishing vitamins and discover massive health benefits unattainable with the oral route.
How Long Does Treatment Take?
Treatments generally take about 45 minutes and provide a range of benefits, depending on your health goals.
What Treatment Is Right For Me?
The IV drip treatment that you receive depends on which health concerns you'd like to address. Our doctors can recommend treatments based on your lifestyle goals and can tailor your IV based on your individual needs.
Who Do We Treat?
We recommend IV drip therapy for professionals, students, families, athletes, and anyone that would like to improve their overall health. If you're wondering whether a specific treatment is right for you, please contact us and we'll be glad to answer any questions.
the doctor will see you now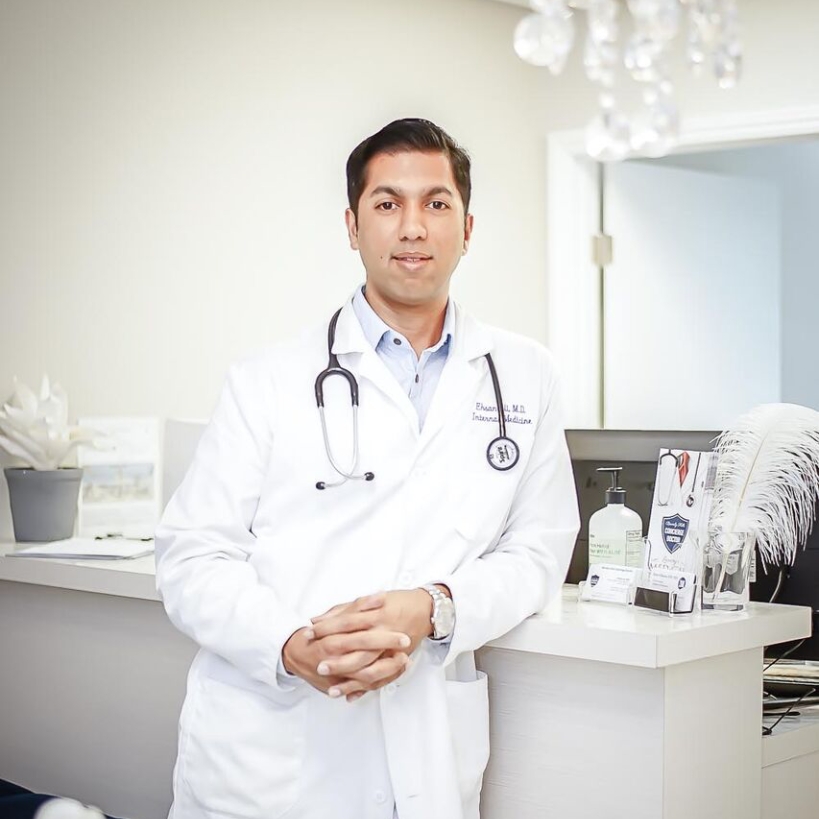 DR. EHSAN ALI
Dr. Ehsan Ali is a Primary Doctor board-certified in Internal Medicine and is fellowship-trained in Geriatric Medicine based in Beverly Hills. Dr. Ehsan Ali completed his medical education at NYU (New York University) in 2008.
In his spare time, Dr. Ali volunteers at free medical clinics located in the inner city and urban areas for people who do not have insurance. He is also proficient in speaking Spanish. Additionally, he serves as a clinical instructor at the University of California, Los Angeles, where he teaches and mentors medical students during their rotations at local community clinics.
Before private practice, Dr. Ali was a member of the Cedar-Sinai Medical Group. He currently has active hospital privileges at Cedars-Sinai Medical Center and is a well-known concierge doctor to many celebrities, athletes, and high-profile individuals throughout Southern California.