Stop the Spread of COVID-19 & Secure Essential Travel Documents with The Cure IV's In-Home Testing Services
If you believe that you are experiencing coronavirus symptoms, you are planning to travel overseas, or you want to determine whether you're free from SARS-CoV-2, it would be best for you to take a COVID-19 test.
Our nurses at The Cure IV make house calls while safely determining whether you are free of COVID-19 using three different coronavirus tests. You can have your results in as few as 15 minutes after completing your test.
MOBILE COVID-19 TESTING REQUEST
COVID-19 IgG/IgM Antibodies Rapid Test
A serological test that detects human antibodies (proteins belonging to the immunoglobulin class), IgG & IgM. A small blood sample is taken from a finger stick. Results are available in 10-15 minutes.
learn more
The COVID-19 IgG & IgM Rapid Test Device utilizes lateral flow technology that is used for the qualitative, differential detection of both anti-SARS-CoV-2 IgM and IgG antibodies. In general, antibodies can be detected 1-3 weeks after infection. This test is intended to screen patients for COVID-19 for recent or past infection.
How accurate is COVID-19 IgG/IgM Rapid Test Device?
The COVID-19 IgG/IgM has been evaluated with the 113 blood samples obtained from patients exhibiting pneumonia or respiratory symptoms.
The sensitivity of the IgM test is 87.9% and specificity 100% when compared to RT-PCR.
The sensitivity of the IgG test is 97.2% during the convalescence period, and specificity is 100%.
What is the significance of the various test results?
IgM negative, IgG negative: Patient not exposed or too early.
A medical professional should observe symptoms and epidemiology of patients.
Retesting should be considered if symptoms appear or persist.
IgM positive, IgG positive/negative: Acute or recent infection.
IgM negative, IgG positive: Previous, distant infection.
COVID-19 lgG & IgM Antibodies
The Antibodies Test is another form of serological test that detects human antibodies (proteins belonging to the immunoglobulin class), IgG & IgM. Our nurses conduct a traditional blood draw to see if you have recent or past exposure to SARS-CoV-2. Results are available in 24 to 72 hours.
learn more
COVID-19 lgG & IgM Antibodies faq
Who can order this test?
Physicians, prescribing medical professionals, or patients that can have their blood drawn by a healthcare professional.
How can I get tested?
You must complete a digital intake form. A doctor, nurse practitioner, or physician's assistant will contact you for a consultation. After the discussion, the provider may order an antibody test and or nasal swab as medically necessary based on symptoms, risk factors, and the likelihood of exposure.
What is Antibody IgM?
Upon infection with the SARS-CoV-2 virus, the patient's immune system tries to fight the virus by producing blood circulating molecules known as antibodies. IgM is a class of antibodies that appear 3-5 days after infection.
What is Antibody IgG?
Upon infection with the SARS-CoV-2 virus, the patient's immune system tries to fight the virus by producing blood circulating molecules known as antibodies. IgG is the second class of antibodies that appears around 21 days after infection.
Is your test an at-home test?
No. If you order a test after your consultation, a mobile phlebotomist or nurse from a service provider network will arrive to obtain your specimen. The nurse transports your sample to a CLIA certified lab with CAP accreditation. A 3rd party laboratory determines testing processes and delivers medical results.
What is the clinical specificity of this test?
97.50%
What is the clinical sensitivity of this test?
89.89%
If a patient's test shows antibodies, does this mean they cannot become infected with the virus in the future?
The strength of each person's immune system varies. An individual may develop immune defense once they develop IgG antibodies. We are not sure at this time as controlled tests and studies are limited.
Does the FDA authorize the testing method?
Medical professionals complete the Antibodies IgG and IgM tests on the fully automated Diazyme DZ-Lite 3000 Plus chemiluminescence analyzer. Nurses conduct these tests under FDA guidelines in a CLIA Certified Lab. The Diazyme serological test notification is on FDA's website under "FAQs on Diagnostic Testing for SARS-CoV-2."
How long are the antibodies present in your system?
The antibodies could remain present in your system for a significant amount of time. However, the exact time is not currently known.
What do I need to do to prepare for the test?
Hydrate and avoid smoking, nicotine, and coffee, which could provide false positives or negatives. Shower 30 minutes before your appointment. Cover your face with protective gear, such as a mask. Finally, prepare your identification to show your nurse.
How long will it take to receive results?
We expect to get the results in 36-48 hours from when the lab receives the specimen.
How do I receive my results?
Depending on the outcome of your test, your provider will call you or send you your results digitally.
Can The Cure IV accept insurance or HSA for this testing?
Not at this time.
COVID-19 Real Time RT-PCR, DNA by Swab
A qualitative test that detects the presence of the underlying virus (SARS­CoV-2) that causes COVID-19 and is for use with patients who meet current guidelines for evaluation of infection with COVID-19. Results available in 24-72 hours.
learn more
Swab collection is administered by a healthcare worker using a COVID-19 Collection kit, your sample is sent directly to a State of The Art Laboratory that is CLIA Certified and CAP Accredited where samples are processed and tested that day. The Real Time RT-PCR, DNA instrumentation that they use is cleared by the FDA's Emergency Use Authorization (EUA)
Do you offer a test to detect the presence of the 2019 novel coronavirus?
Yes. The COVID-19 Nucleic Acid Amplification Testing detects the presence of the underlying virus SARS­ CoV-2 that causes COVID-19 and is for use with patients who meet current guidance for evaluation of infection with COVID-19.
What is the test methodology for 2019 Novel Coronavirus (COVID-19), NAA?
Nucleic Acid Amplification test that is run on Real Time-PCR Instrumentation.
Do I need this test?
This test is for individuals with active symptoms or healthcare professionals or essential workers with known recent exposure to an individual who has tested positive.
How is the test done?
Nasal Swab: Nasopharyngeal swab submitted in viral transport media, which is a preferred sample type;
Mouth Swab: Oropharyngeal swab submitted in viral transport media, which is a preferred sample type;
Saliva: Oropharyngeal aspirate or washing submitted in a sterile, leak-proof, screw cap sputum collection cup or sterile dry container;
How long will it take to report results back?
We expect results 24-72 hours after the laboratory receives the specimen.
How will ordering physicians be notified of positive results?
Positive results will be treated as a critical result and will be called to the ordering physician or health care provider.
Will positive COVID-19 results be reported to local and state public health entities?
Yes
Will you send positive tests to the CDC or state health labs for confirmatory testing?
Yes
Does a negative result from the COVID-19 test mean that a patient is definitely not infected?
Not necessarily. COVID-19 assay detects the virus directly, within the established limits of detection for which it was validated. A positive result is considered definitive evidence of infection. However, a negative result does not definitively rule out infection. As with any test, the accuracy relies on many factors:
The test might not detect virus in an infected patient if the virus is not being actively shed at the time or site of sample collection.
The amount of time that a n individual was exposed prior to the collection of the specimen can also influence whether the test will detect the virus.
Individual responses to the virus can differ.
Whether the specimen we receive was collected properly, sent promptly, and packaged correctly.
Test results are a critical part of any diagnosis, but must be used by the clinician along with other information to form a diagnosis.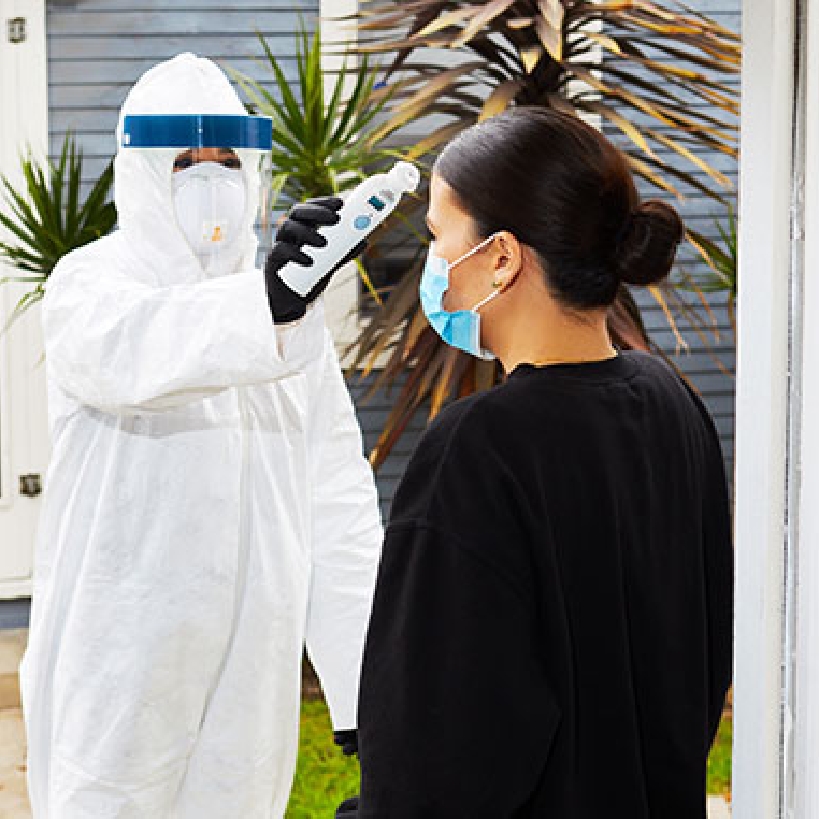 how to prepare for testing
Hydrate well, no smoking, no nicotine, no coffee.
Shower 30 minutes prior to your appointment time.
Cover your face with a mask or scarf.
Have your identification out and visible at the beginning of the appointment.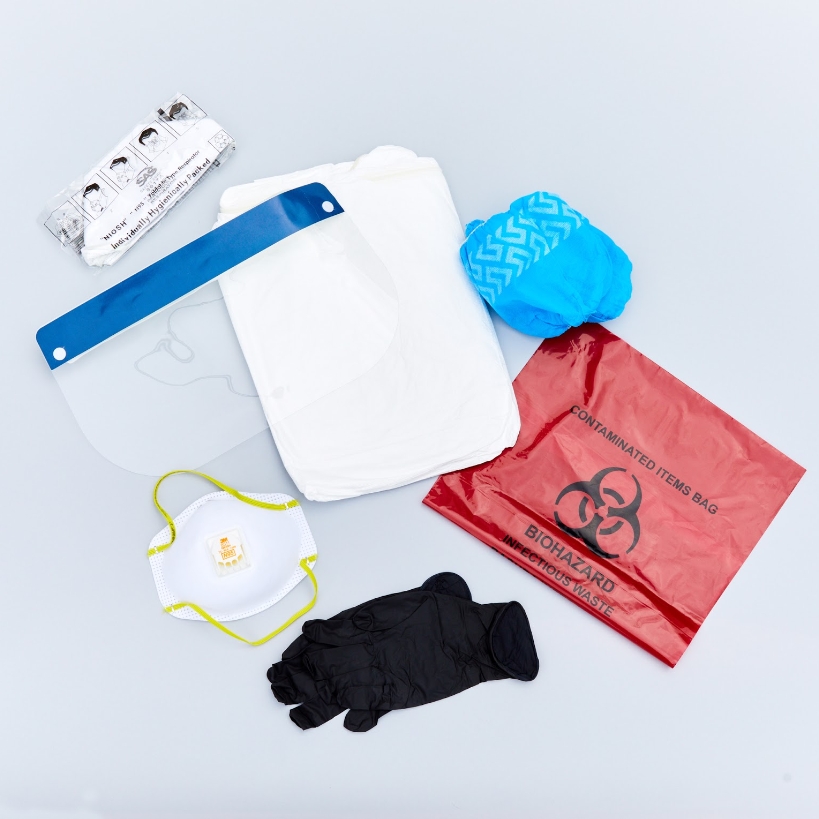 how it works
Book Online Service.
Provider arrives at appointment time for specimen collection.
Specimen is transported to CLIA Certified Lab.
Results in 48-72 hours.
FAQ
Coronavirus (COVID-19) and IV Therapy FAQs
What are the symptoms of COVID-19?
Many patients with confirmed COVID-19 have developed a fever or symptoms of acute respiratory illness (e.g., cough, difficulty breathing). However, limited information is currently available to characterize the full spectrum of clinical conditions associated with COVID-19. From what researchers know about the virus that causes COVID-19, signs, and symptoms may appear any time from 2 to 14 days after exposure to the virus. Based on preliminary data, the median incubation period is approximately five days but may range from 2 to 14 days. Public health officials have identified cases of COVID-19 infection throughout the world, including the United States, which may pose risks for public health. Please check the CDC webpage for the most up-to-date information.
What does it mean if the specimen tests negative for the virus that causes COVID-19?
A negative test result for this test means that SARS-CoV-2 RNA was not present in the specimen above the limit of detection. However, a negative test result does not rule out COVID-19 and should not be the sole basis for treatment or patient management decisions. A negative test result does not exclude the possibility of COVID-19. When diagnostic testing is negative, medical professionals should consider the potential of a false-negative test result in the context of a patient's recent exposures and the presence of clinical signs and symptoms consistent with COVID-19. Physicians should especially consider the possibility of a false-negative result if the patient's current exposure or clinical presentation indicates that COVID-19 is likely, and diagnostic tests for other causes of illness (e.g., another respiratory disease) bring no clarity. If COVID-19 is still suspected based on exposure history and other clinical findings, healthcare providers should consider re-testing in consultation with public health authorities.
What if I need to visit a health care provider for the coronavirus?
If you feel sick with flu-like symptoms, please first call your doctor, a nurse hotline, or an urgent care center. If you need to go to the hospital, call ahead so they can prepare for your arrival. If you need to call 911, tell the 911 operator the exact symptoms you are experiencing so the ambulance provider can prepare to treat you safely.
What about routine, elective, or non-urgent medical appointments?
Non-essential medical care like eye exams, teeth cleaning, and elective procedures should be canceled or rescheduled. If possible, patients should do health care visits remotely. Contact your health care provider to see what services they provide.
Can I leave home to care for my elderly parents or friends who require assistance to care for themselves? Or a friend or family member who has disabilities?
Yes. Be sure that you protect the elderly and yourself by following social distancing guidelines. Guidelines suggest activities such as washing hands before and after, using hand sanitizer, maintaining at least six feet of distance when possible, and coughing or sneezing into your elbow or a tissue, and then washing your hands. If you have early signs of a cold, please stay away from your older loved ones.
Can I visit loved ones in the hospital, nursing home, skilled nursing facility, or other residential care facilities?
Generally, no. There are limited exceptions, such as going to the hospital with a minor under 18 or someone who is developmentally disabled and needs assistance. For most other situations, the order prohibits non-necessary visitation to these facilities except at the end-of-life. Not visiting loved ones is difficult but necessary to protect hospital staff and other patients.
How does The Cure IV help prevent the spread of COVID-19 when visiting patients?
Our nurses treat clients without symptoms or known exposure to the coronavirus while following strict quarantine precautions. The nurses will arrive in N95 masks with all patients that remain on during the entire appointment. The nurses see a maximum of 4 patients in a 12-hour day, allowing enough time to go home, shower, change scrubs in between every appointment. We have other nurses who work primarily in Emergency Departments or other hospital departments who can care for COVID-19 positive patients. These nurses are separate from those who care for healthy clients without COVID-19 exposure.
Do The Cure IV nurses wear masks and gloves?
Yes, all of our nurses will be wearing N95 masks and gloves during all appointments. We can provide them to you as well.
Does seeing a mobile IV nurse come to my house increase my risk of coronavirus infection?
To stop the spread of COVID-19, our nurses have additional time between appointments to shower, change scrubs, and disinfect their equipment. Our nurses also wear N95 masks during all meetings.
Will your IV therapy nurses provide a mask for me?
We can provide you with the proper safety medical equipment. If you need an N95 mask during your appointment, your nurse will provide one to you.
What happens if a nurse on your team experiences COVID-19 symptoms?
Any nurse with exposure to a COVID-19 patient without the proper personal protective equipment (PPE) will practice self-quarantine. Therefore, nurses with coronavirus exposure will not see patients for at least 14 days. At the first sign of symptoms, our medical professionals undergo testing. As supplies allow, we periodically test all staff members, even those without symptoms.
What precautions do The Cure IV nurses take to prevent infection when giving me the IV therapy?
Along with mandatory uniform change, shower, and disinfection of equipment, our nurses wear the required gloves and N95 masks. They will not bring their personal belongings to the appointment and will only arrive with the necessary equipment for providing medical services.
How does The Cure IV clean IV equipment?
We disinfect our equipment before and after use. The CDC directs the cleaning agents approved by the EPA used according to manufacturer's directions as adequate to sanitize instruments and surfaces.
corporate testing
Turnkey Testing Solutions for Your Employees
Ensure that your business promotes the health of your employees, their families, and your customers. The Cure IV provides affordable corporate COVID-19 testing solutions which make it easy to protect your team members. To discuss our corporate testing service with our medical professionals, please complete the form below or call us at (855) 514-0357.