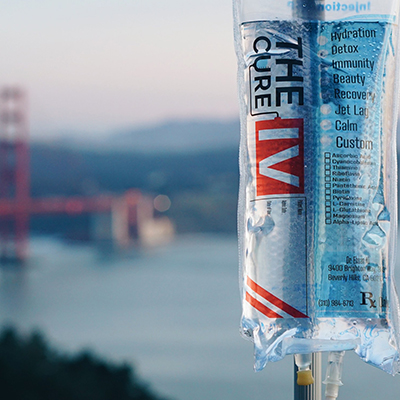 Your acceptance of, and compliance with, these Terms of Use is a condition to your use of the Site and Services and purchase of Products. By clicking "accept", you acknowledge that you have read, understand, and accept all terms and conditions contained within these Terms of Use, the Notice of Privacy Practices provided to you by the Beverly Hills Concierge Doctor // The Cure IV and third-party service providers, and our Privacy Policy. If you do not agree to be bound by these terms, you are not authorized to access or use this Site or Services; promptly exit this Site.
Binding Arbitration. These Terms of Use provide that all disputes between you and Beverly Hills Concierge Doctor // The Cure IV and third-party service providers that in any way relate to these Terms of Use or your use of the Site will be resolved by BINDING ARBITRATION. ACCORDINGLY, YOU AGREE TO GIVE UP YOUR RIGHT TO GO TO COURT (INCLUDING IN A CLASS ACTION PROCEEDING) to assert or defend your rights under these Terms of Use. Your rights will be determined by a NEUTRAL ARBITRATOR and NOT a judge or jury, and your claims cannot be brought as a class action. Please review the Section below entitled Dispute Resolution; Arbitration Agreement- for details regarding your agreement to arbitrate any disputes with Beverly Hills Concierge Doctor // The Cure IV, and third-party service providers.
Beverly Hills Concierge Doctor // The Cure IV and third-party service providers ("Company," "we," "our," or "us") owns and operates The Cure IV website located at https://thecureiv.com (the "Website") The Cure IV mobile application (the "Application" and, together with the Website, the "Platform"). Your access and use of the Platform, any part thereof, or anything associated therewith, including its content ("Content"), any products or services provided through the Platform or otherwise by Beverly Hills Concierge Doctor // The Cure IV and third-party service providers, and any affiliated website, software or application owned or operated by Beverly Hills Concierge Doctor // The Cure IV and third-party service providers (collectively, including the Platform and the Content, the "Service") are governed by the terms and conditions set forth in these Terms of Use ("Terms of Use"). Please read these Terms of Use carefully, as they set forth the important terms you will need to know about the Service. In these Terms of Use, the terms "you" and "yours" refer to the person using the Service, or in the case of use of the Service by or on behalf of a minor, "you" and "yours" refer to and include both (i) the parent or legal guardian who provides consent to the use of the Service by such minor or uses the Service on behalf of such minor, and (ii) the minor for whom consent is being provided or on whose behalf the Service is being utilized.
IF YOU HAVE A MEDICAL EMERGENCY,
IMMEDIATELY CALL YOUR DOCTOR OR DIAL 911.
THE SERVICE MIGHT NOT BE APPROPRIATE FOR ALL MEDICAL CONDITIONS OR CONCERNS.
THESE TERMS OF USE ARE SUBJECT TO CHANGE AS PROVIDED HEREIN.
ACCEPTANCE OF TERMS OF USE
Your access to and use of the Service is subject to these Terms of Use, The Beverly Hills Concierge Doctor // The Cure IV Privacy Statement, as well as all applicable laws and regulations. If you do not accept and agree to be bound by any of these Terms of Use, you are not authorized to access or otherwise use the Service, or any information or Content provided through the Service. The Service is continually under development, and Beverly Hills Concierge Doctor // The Cure IV reserves the right to revise or remove any part of these Terms of Use in its sole discretion at any time and without prior notice to you. Any changes to these Terms of Use are effective upon posting to the Platform. Unless otherwise indicated, any new content added to the Service is also subject to these Terms of Use upon posting to the Platform. If you disagree with these Terms of Use, your sole remedy is to discontinue your use of the Service. Your continued use after a change to these Terms of Use has been posted constitutes your acceptance of the Terms of Use as modified by such changes.
YOUR RELATIONSHIP WITH Beverly Hills Concierge Doctor // The Cure IV
Beverly Hills Concierge Doctor: The Cure IV is a technology company that makes available to individuals who register as users of the Service ("Users") certain products and services designed for use in assessing certain aspects of their health, obtaining generally applicable information about diseases, health and wellness, and tracking and managing users' health and wellness, and relationships with their healthcare providers. Beverly Hills Concierge Doctor // The Cure IV also provides certain technological and other administrative support for Beverly Hills Concierge Doctor, a California medical group (the "Medical Group") that employs or contracts with physicians and allied health professionals ("Providers"), and to the extent that you become a patient of the Medical Group, The Cure IV will provide you with technological and administrative services (such as access to your medical information) associated with that relationship.
The Cure IV acts solely as a technology platform to provide you with products and services offered through the Service, including, at your option, connecting you with the Medical Group and the Providers. We do not control or interfere with the practice of medicine by the Medical Group or any Providers, each of whom is solely responsible for the medical care and treatment he or she provides to you. By accepting these Terms of Use, you acknowledge and agree that The Cure IV is not a healthcare provider and that by using the Service, you are not entering into a doctor-patient or other health care provider-patient relationship with The Cure IV. By using certain aspects of the Service, you may, however, need to enter into a doctor-patient or other health care provider-patient relationship with the Medical Group and/or one or more Providers. Prior to allowing you to use such aspects of the Service, the Medical Group will provide you with various notices and require you to agree to their terms and policies.
By accepting the Terms of Use, you understand that to the extent you establish a relationship with the Medical Group, the Medical Group and/or Providers may send you messages, reports, and emails via the Service regarding your diagnosis and/or treatment. The Cure IV may also send you messages, reports, and emails via the Service that are not medical advice but are instead related to general health and wellness. You further understand and agree that it is your responsibility to monitor and respond to these messages, reports, and emails and that neither The Cure IV nor the Medical Group or any Provider will be responsible in any way and you will not hold The Cure IV, Medical Group or any Provider liable for any loss, injury, or claims of any kind resulting from your failure to read or respond to these messages, or for your failure to comply with any treatment recommendations or instructions from the Medical Group or your Provider(s).
While you are not establishing a doctor-patient or other health care provider-patient relationship with The Cure IV; by using the Service, you are establishing a direct customer relationship with The Cure IV to use the products and services made available through the Service. In connection with such a relationship, you may provide to us, or cause to be provided to us on your behalf, personal information, including health information, that is subject to use by us in accordance with our Privacy Statement. Please refer to the "Privacy Statement" section below (and the Privacy Statement) for additional information.
LIMITED USE AND AVAILABILITY
Our Service is currently only available to individuals who meet certain age or parental/guardian use and/or consent requirements. The Service is not intended for direct use by children under 18 years of age under any circumstances. In addition, you must be at least 18 years of age or such older age of majority as required under the applicable laws when utilizing the Service. If you are between the ages of 13 and 18, you may still use the Service, but you must have a parent or legal guardian provide valid and verifiable consent to your use of the Service and accept these Terms of Use and acknowledge our Privacy Statement, in each case as required by the Service or as otherwise required by The Cure IV from time to time. If we determine at any time that the consent provided is invalid or inadequate, we may suspend or terminate your access to or use of the Service. If you are under the age of 13, the Service may still be utilized by your parent or legal guardian on your behalf, but you may not use the Service directly. If we determine at any time that a child under the age of 13 has created an account through the Service, we terminate such child's user account and remove all information regarding such child from our systems. By using the Service, you are representing and warranting to us that you satisfy at least one of the following: (a) you are at least 18 years of age or such older age of majority as required under the applicable laws in the state you live in, as applicable, (b) you are at least 13 years of age and your parent or legal guardian has provided us with valid and verifiable consent to your use of the Service, (c) you are the parent or legal guardian of a minor child and are using the Service on such minor child's behalf with full capacity and legal authority to do so. Our Service is subject to state regulations and may change from time to time due to changes in applicable regulatory requirements.
In some cases, the Service may not be the most appropriate way for you to assess certain aspects of your health, track or manage your health and wellness, or provide information to, communicate with or seek medical care and treatment from a healthcare provider.
CONSENT TO USE OF TELEHEALTH SERVICES
Telehealth involves the delivery of healthcare services using electronic communications, information technology, or other means between parties who are not in the same physical location. While the provision of health care services using telehealth may offer certain potential benefits, there are also potential risks associated with the use of Telehealth. In order to use certain aspects of the Service, you will be required to review and agree to a Patient Agreement and Consent (the "Patient Consent") that will be provided to you by the Medical Group. You agree that the Patient Consent is entered into with the Medical Group, but that The Cure IV is a third-party beneficiary of the Patient Consent and has the right to enforce it against you.
DUTY TO PROVIDE INFORMATION, ACCESS, AND CONNECTIVITY
You are responsible for providing and maintaining, at your own risk, option and expense, appropriate software and hardware capabilities (consistent with any technical, quality or other requirements described in the Service) to enable the use of the Service. You also have a duty to provide truthful, accurate and complete information in any forms or other communications you submit to or through the Service. The Cure IV reserves the right to change the access configuration, including any software, hardware or other requirements of the Service at any time without prior notice.
PRIVACY STATEMENT AND SHARING WITH THE MEDICAL GROUP
The Cure IV understands the importance of confidentiality and privacy regarding your information. Please see our Privacy Statement (https://thecureiv.com/privacy) for a description of how we may collect, use and disclose your personal information. The Privacy Statement is incorporated by reference into these Terms of Service, and your acceptance of an agreement to these Terms of Service also includes your acceptance of an agreement to the Privacy Statement. If you become a patient of the Medical Group, you authorize The Cure IV to share your information, and information about you, with the Medical Group.
REGISTRATION; USER ACCOUNTS, PASSWORDS, AND SECURITY
You are obligated to register and set up an account in the Platform in order to access the Service, and the Service is available only to Users who have registered and have been granted accounts with usernames and passwords. You agree to accurately maintain and update any information about yourself that you have provided to The Cure IV and/or the Medical Group or its Providers. If you do not keep such information current, or fail to submit truthful, accurate and complete information, or The Cure IV has reasonable grounds to suspect as much, The Cure IV has the right to suspend or terminate your account and your use of the Service. You also agree to immediately notify The Cure IV of any unauthorized use of your username, password or any other breach of security that you become aware of involving or relating to the Service by emailing The Cure IV at [email protected]. In addition, you agree to keep confidential your username and password and to exit from your User account at the end of each session. The Cure IV explicitly disclaims liability for any and all losses and damages arising from your failure to comply with this section. You may not use anyone else's account at any time.
When establishing an account, you will be required to provide a username and password that will be used as your login for your account. It is your responsibility to secure and prevent unauthorized physical access to your computer, phone and other devices, and to protect the confidentiality of your username and password.
You must exercise caution, good sense, and sound judgment in using the Service. You are prohibited from violating or attempting to violate, the security of the Service. Any such violations may result in criminal and/or civil penalties against you. The Cure IV may investigate any alleged or suspected violations and if a criminal violation is suspected, The Cure IV will cooperate with law enforcement agencies in their investigations.
OWNERSHIP OF INFORMATION SUBMITTED VIA THE SERVICE
Subject to the limitations on protected health information ("PHI"), as defined by the Health Insurance Portability and Accountability Act of 1996, Public Law 104-191, and its related regulations and amendments from time to time (collectively, "HIPAA"), described below, or related state-specific privacy laws and regulations, any information you transmit to The Cure IV via the Service, whether by direct entry, submission, email or otherwise, including data, questions, comments, forum communications, or suggestions (collectively, "Submissions"), will, to the extent permitted under applicable law, be treated as non-confidential and non-proprietary and will become the property of The Cure IV. You hereby irrevocably assign (and agree to assign) to The Cure IV, free and clear of any restriction or encumbrances, all of your rights, title and interest in and to the Submission, including, without limitation, all copyrights, rights in patents, rights in trade secrets, and all rights incidental, subsidiary, ancillary, or allied thereto (including, without limitation, all derivative rights) in and to the Submission. To the extent the assignment granted above fails for any reason, you hereby grant to The Cure IV an exclusive, perpetual, irrevocable, royalty-free, worldwide license under your intellectual property rights, with the right to sublicense to third parties, the right to make, access, practice, sell, offer for sale, export, import, copy, use, modify, prepare derivative works from, distribute, publicly display, publicly perform, and otherwise exploit in any manner those Submissions with respect to which the foregoing assignment shall have failed. You agree to execute any documents and take any other actions as may reasonably be necessary, or as The Cure IV may reasonably request, to evidence, perfect, maintain and enforce The Cure IV's ownership of or license to any such Submissions. In addition to the foregoing, The Cure IV shall have the right, in its sole discretion, to edit, duplicate, or alter the Submission in any manner for any purpose that The Cure IV deems necessary or desirable, and you irrevocably waive any and all so-called moral rights you may have in the Submission. You further agree that you shall have no right of approval and no claim to compensation in connection with the Submission.
Certain Submissions you make may contain PHI, which may be subject to HIPAA or related state-specific privacy laws and regulations, depending on your relationship with The Cure IV and the Medical Group and the context in which you are providing the Submission. With respect to any such PHI, The Cure IV rights under this section with respect to the use or disclosure of such PHI will be limited as and to the extent required under HIPAA or an applicable Patient Authorization, as applicable.
ACKNOWLEDGEMENT OF HIGHLY CONFIDENTIAL INFORMATION
You acknowledge and agree that, in permitting you to utilize the Service, The Cure IV is entrusting you with sensitive or competitive confidential competitive information regarding, reflecting or otherwise relating to The Cure IV's research and development, product development plans, and marketing and other business strategies, including any and all intellectual property of The Cure IV (collectively, "Confidential Information"). You agree that all information relating to the Service furnished to, accessed by, or otherwise learned by you constitutes Confidential Information pursuant to the Agreement and may be used by you solely to access the Service in accordance with this Agreement. You agree that you will not use Confidential Information in any way, for your own account or the account of any third party. You agree not to disclose any Confidential Information to any other person or entity without The Cure IV's prior written approval. You agree to inform The Cure IV promptly of any actual or suspected unauthorized disclosure or use of Confidential Information in violation of these Terms of Use.
PROHIBITED USE
Any use or attempted use of the Service (i) for any unlawful, unauthorized, fraudulent or malicious purpose, (ii) that could damage, disable, overburden, or impair any server, or the network(s) connected to any server, (iii) that could interfere with any other party's use and enjoyment of the Service, (iv) to gain unauthorized access to any other accounts, computer systems, or networks connected to any server or systems through hacking, password mining or any other means, (v) to access systems, data, or information not intended by The Cure IV to be made accessible to a user, (vi) to obtain any materials, or information through any means not intentionally made available by The Cure IV, (vii) to reverse engineer, disassemble or decompile any section or technology on the Service, (viii) for research or to compete with The Cure IV or the Medical Group, or (ix) any use other than the business purpose for which it was intended, is prohibited.
In addition, in connection with your use of the Service, you agree you will not: (a) upload or transmit any message, information, data, text, software or images, or other content that is unlawful, harmful, threatening, abusive, harassing, tortuous, defamatory, vulgar, obscene, libelous, or otherwise objectionable, or that may invade another's right of privacy or publicity; (b) create a false identity for the purpose of misleading others or impersonate any person or entity, including, without limitation, any The Cure IV representative, or falsely state or otherwise misrepresent your affiliation with a person or entity; (c) upload or transmit any material that you do not have a right to reproduce, display or transmit under any law or under contractual or fiduciary relationships (such as nondisclosure agreements); (d) upload files that contain viruses, trojan horses, worms, time bombs, cancel-bots, corrupted files, spyware or any other similar software or programs that may damage the operation of another's computer or property of another; (e) delete any author attributions, legal notices or proprietary designations or labels that you upload to any communication feature; (f) use the Service's communication features in a manner that adversely affects the availability of its resources to other users (e.g., excessive shouting, use of all caps, or flooding continuous posting of repetitive text); (g) upload or transmit any unsolicited advertising, promotional materials, "junk mail," "spam," "chain letters," "pyramid schemes," "phishing" or any other form of solicitation, commercial or otherwise; (h) violate any applicable local, state, national or international law; (i) upload or transmit any material that infringes any patent, trademark, service mark, trade secret, copyright or other proprietary rights of any party; (j) delete or revise any material posted by any other person or entity; (k) manipulate or otherwise display the Service by using framing, mirroring or similar navigational technology; (l) probe, scan, test the vulnerability of or breach the authentication measures of, the Service or any related networks or systems; (m) register, subscribe, attempt to register, attempt to subscribe, unsubscribe, or attempt to unsubscribe, any party for any services or any contests, promotions or sweepstakes if you are not expressly authorized by such party to do so; (n) harvest or otherwise collect information about others, including email addresses; (o) use any robot, spider, scraper, or other automated or manual means to access the Service, or copy any content or information on the Service; or (p) assist or permit any person in engaging in any of these activities.
The Cure IV reserves the right to take whatever lawful actions it may deem appropriate in response to actual or suspected violations of the foregoing, including, without limitation, the suspension or termination of a User's access and/or account. The Cure IV may cooperate with legal authorities and/or third parties in the investigation of any suspected or alleged crime or civil wrong.
Except as may be provided in the Privacy Statement, The Cure IV reserves the right at all times to disclose any information as The Cure IV deems necessary to satisfy any applicable law, regulation, legal process or governmental request, or to edit, refuse to post or to remove any information or materials, in whole or in part, in The Cure IV's sole discretion.
RIGHT TO MONITOR
The Cure IV reserves the right to monitor general use of the Service at any time as it deems appropriate and to remove any materials that, in The Cure IV's sole discretion, may be illegal, may subject The Cure IV to liability, may violate these Terms of Use, or are, in the sole discretion of The Cure IV, inconsistent with The Cure IV's purpose for the Service.
THIRD-PARTY GOODS AND SERVICES
Parties other than The Cure IV, including Medical Group and Providers (collectively, "Third-Parties") provide services or sell products through the Service, and The Cure IV may also make available to you for purchase certain services, devices, items or products manufactured, distributed or sold by Third-Parties ("Third-Party Goods and Services"). Your use of any Third-Party Goods and any interactions with Third-Parties, including payment and delivery of goods or services, and any other terms, conditions, warranties or representations associated with such use or interactions, are solely between you and such Third-Parties. You should make whatever investigation you feel necessary or appropriate before proceeding with any online or offline transaction involving Third-Parties or any Third-Party Goods and Services. You are solely responsible for, and shall exercise caution, discretion, common sense and judgment in, using the Service and disclosing personal information.
You agree that The Cure IV shall not be responsible or liable for any loss or damage of any sort incurred as the result of your use of any Third-Party Goods and Services or your interactions with any Third-Parties. In the event of any dispute between you and any Third-Party, any other User or any other entity or individual, you understand and agree that The Cure IV is under no obligation to become involved in such dispute, and you hereby release and indemnify The Cure IV, its affiliates and their respective contractors, and its directors, officers, employees, representatives, proprietors, partners, shareholders, servants, principals, agents, predecessors, successors, assigns, accountants, and attorneys (collectively, "The Cure IV Parties") from any and all claims, demands and/or damages (actual or consequential) of every kind or nature, known or unknown, suspected and unsuspected, disclosed or undisclosed, arising out of or in any way related to such disputes or the Service or the features and services therein. If you are a California resident, you waive California Civil Code Section 1542, which states: "A general release does not extend to claims that the creditor or releasing party does not know or suspect to exist in his favour at the time of executing the release and that if known by him would have materially affected his settlement with the debtor or released party."
TERMINATION
The Cure IV may terminate your use of the Service or any of our features or services at any time and for any reason without notice, including, for example, for conduct violating these Terms of Use, if our agreement with your Provider terminates or if we discontinue the Service. Upon any such termination, you must destroy all Content obtained from the Service and all copies thereof. The provisions of these Terms of Use concerning Service security, prohibited activities, copyrights, trademarks, user submissions, disclaimer, limitation of liability, indemnity and jurisdictional issues shall survive any such termination. You agree that if your use of the Service is terminated pursuant to these Terms of Use, you will not attempt to use the Service under any name, real or assumed, and further agree that if you violate this restriction after being terminated, you will indemnify and hold all The Cure IV Parties harmless from any and all liability that any such The Cure IV Parties may incur with respect thereto.